Excursions near Bhedaghat
Bargi Dam Jabalpur
Bargi Dam Water Sports: Bargi dam is built on Narmada River and is about 40km. away from Jabalpur city of Madhya Pradesh, India. Tourist attraction here are water sports like cruise ride, motor-boat ride, speed boat ride etc. Madhya Pradesh Tourism Department has its own resort in Bargi Dam and promotes it as important section of Jabalpur Sightseeing or Excursion Tour from Jabalpur.
Ramnagar Fort Mandla
Mandla is a tribal district of Madhya Pradesh, India. It is situated on the way to Kanha National Park and is about 95km. from Jabalpur city. Ramnagar is a village on the bank of Narmada river, about 15km. away from Mandla town. During 16th century Gond (tribe) rulers developed many medium sized forts and palaces in this area like Moti mahal, Rai-bhagat ki kothi, Begam Mahal, Rani Mahal etc. It is a tribal area and best place to get a glimpse of actual tribal life style. On moving further, one can also get a close look of tribal culture at Chaugan village. On every Monday fort remains closed for general public. Monuments are also there is Mandla city but they are is very miserable condition, only a watch tower is in left little bit better condition otherwise nothing left for visitors. There is a museum also in Mandla city to watch tribal art & culture, ancient statues etc. Museum remains closed on every Monday. Those who are interested in Tribal culture of Central India, can do excursion tour to Mandla, Ramnagar forts & Chougan.
Singore Garh Fort
Now only ruins of fort are left for general public. Another perfect example of negligence of historical monument of Madhya Pradesh state. Singorgarh fort was constructed by Gonds and Rani Durgawati use to live in this fort with Dalpatshah(her husband). Singorgarh fort was one of the three capitals of Gond kingdom. Other two capitals were Garha fort of Jabalpur and Chouragarh fort where treasury of Gond kingdom was kept. It was Singorgarh fort which was attacked first by Aasaf Khan (Akbar's military general) during war with Rani Durgawati and was badly damaged. Singorgarh fort was about 60km. from Jabalpur on Jabalpur-Damoh road. It is in deep forest area about 6km inside from main road. It is cannot be reached easily but good for adventure loving visitors. One can visit fort with the permission of Forest department. For adventure loving persons, having interest in history of Jabalpur, Singorgarh Fort tour will be a memorable Excursion tour.
Rock Paintings of Katni
It is surprising to know that in Jabalpur city most of the local citizens are unaware of rock paintings in Katni which is hardly 95 km. away from Jabalpur city. The rock painting site is on main road in Jhinjari area of Katni city. These rock paintings are about 10000 BC to 4000 BC old. It remains closed on Sunday. Entrance fee is also very nominal for any visitor. While traveling form Jabalpur to Katni/Maihar or vice-versa, one can do enroute visit to this park. It is about 2km. from Tourist Motel Katni (MP Tourism hotel), about 5km. from Katni railway station, 8km. from Main Bus Stand of Katni city. Site remains open for general public from 10:00 AM to 05:00 PM.
Geographical Central Point of India
As we all know, Madhya Pradesh means Central State of India which means, geographically it is located in Central India. Being located in Central India, Madhya Pradesh has geographical central point of India in it. About 90kms. From Jabalpur city, one can find Geographical Central Point of India in Karondi village. Nowadays, area is known for the Maharishi Mahesh Yogi's Karondi Ashram. People from all over the world visits Karondi Ashram for peace and to perform transcendental meditation program and learn Vedic Mantras. Government has made small monument here with national emblem of India. Local people knows it by the name of "Kendra Bindu"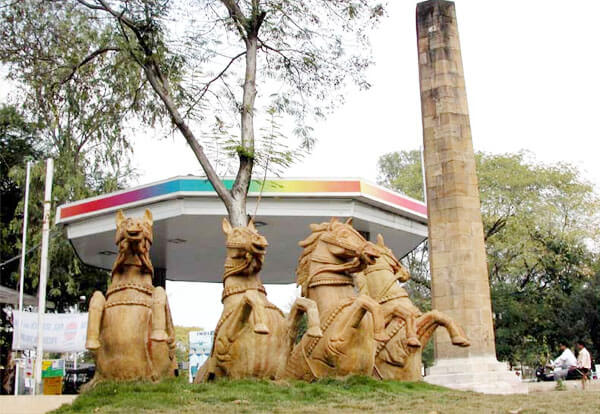 Ghughwa Fossil Park of Mandla
Ghughua or Mandla Fossil Park is about 105 km. from Jabalpur city. It is known for plant fossils that were collected from near-by areas and displayed here for general visitors. Most of the fossils are about 6.5 million years old. These fossils are of trees like mango, palm, amla, banana etc. Here some fossils are of those trees which are commonly found in sea shores or in aquatic environment which means they are evident of some major volcanic activity happened in very past. Fossils are of time when Pangaea supercontinent was existing. In a small museum one can see fossils of some fruits like banana, mango, harad, Amla(emblica officinalis), some body parts of animals(under study). For refreshment and relaxation, forest department has made small cottage, canteen & vehicle parking facility for tourists.
Vijay Raghav Garh
Fort is situated at 35kms. away from Katni city, in Vijayraghavgarh town. Vijayraghavgarh fort was made in 1826 by Thakur Prayagdas. He was son of Maihar King Bishan Singh. Fort is surrounded by a deep trench around it similar to Red fort of Delhi. Trench was made for security reasons. Most of the fort was made up of sand stone. Vijayraghavgarh fort was dedicated to lord Vijay-raghav. There is no entrance fee to visit the fort. Places to visit inside the fort are: Rang mahal, Raghav mahal, Bramha Chabutra, Sita temple, Samadhi sthal, Gupt dwar, Antah puram, Raja ki rasoi etc. Some area of fort was damaged during freedom struggle of 1857 when British forces attacked on the fort as king was with freedom strugglers. Fort can be reached from Katni city by road.
Dumna Nature Reserve - Jabalpur Eco Tourism Site
On the way to Jabalpur Dumna Airport, eco tourism site called Dumna Nature Reserve has been opened for general public. It is spread over an area of 1058 hectare of land. Located at 10 kms from Jabalpur city center on Dumna Airport road. One can do nature walk, fishing, wild animal sighting, bird watching etc on this nature reserve. Wild animals like spotted dears, Chitals, wild boar, porcupine, jackals, monkey, many species of birds etc can be seen in wilderness. In addition to it, boating can also be enjoyed on Khandari Dam. Bathing and swimming in Khandari dam is strictly not allowed as crocodiles are present in the water. It is also a source of water for Jabalpur city. Children Park and restaurant is also developed in this nature reserve. Many new attractions are under construction.Recently toy train has been inaugurated for kids. One can see hanging bridge, tent platform, rest house, fishing platform on Dumna Nature Reserve. Enjoy complete bliss of nature and peace in this eco tourism site. Entrance charge for Dumna Nature Reserve is nominal, Rs.10/- per person. Its timing is from 8:30 hrs to 17:00 hrs, 7 days in a week. There is separate entrance fee for 2-wheeler (10/- INR) and 4-wheeled vehicles (20/- INR). Those who are interested in peace and nature trail must do excursion tour to Dumna Nature Reserve close to Jabalpur city.