Places to See in Amarkantak
Narmada Mandir (group of temples)
Around Narmadakund, a pool at the origin of Narmada, there are number of temples such as Narmada and Shiva temple, Kartikey temple, Shri Ram Janki temple, Annapurna temple, Guru Gorakhnath temple, Sri Shuryanarayan temple, Vangeshwar Mahadev temple, Durga temple, Shiv Pariwar, Siddheswar Mahadev temple, Sri Radha Krishna temple, Eleven Rudra temple etc.
Mai Ka Bagiya
Mai ki Bagiya is one of the prettiest locations in Amarkantak. Literally Bagiya means orchards and Mai ki Bagiya is a lovely stretch of trees, which is believed to be the playground of River Narmada. Legend has it that mother Narmada used to pluck flowers from this garden es along with a long stretch of flowA natural garden with wide varieties of shaded trees, this orchard proffers a nice walking trail in absolute serenity. This garden is spotted with endless varieties of Mangos, bananas and so many other fruit bearing trees along with a long stretch of flowery plants. In fact, Amarkantak found its rendering as a marvelous mango orchard in one of the books of Kalidasa and Mai Ki Bagiya bears a strong testimony to this. Mai Ki Bagiya encompasses shrines, trees, a rain-fed kund and the banks of this holy kund are quite famous for large verities of medicinal herbs and plants.
Sonmuda
The point of origin of the Sone River. It is also a "sunrise" point.
Bhrigumandal
It is around 3 Kms. from Amarkantak on a difficult forest trek route. It is believed that Bhrigu Rishi meditated here. The Parasvinayak and Chandi caves are on this route.
Kabir Chabutra
Saint Kabir spent time here in meditation.
Jwaleshwar Mahadev
The origin of river Johilla. There is a temple deep in the forest of Jwaleshwar Mahadev . There is a 'sunset point' close to this temple.
Kapildhara
At a distance of 8 Kms. from the origin of river Narmada, the river falls from a height of 100 feet creating a waterfall known as Kapildhara with a fall of about 100 feets. It is believed that the Kapil rishi meditated here. According to scriptures, Kapil Muni lived here. There is a scene of natural beauty with mountains and dense forest down hills. According to 'Vindhya Vaibhav' Kapil Muni performed severe austerities here and received divine light. He also wrote the 'sankhya philosophy' (an advanced treatise on mathematics) at this place. The Kapileshwar temple is also situated nearby. The surrounding mountains are full of caves where saints have been performing their spiritual practices.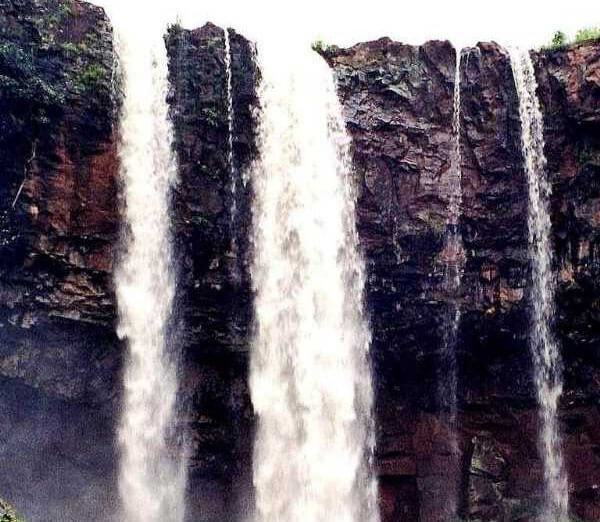 Dudhdhara
Amarkantak is a place where the glittering streams exhilarate the visitors with its gushing waters. There are several places within the shaded coverage of the woody region where Narmada turns in to brawny surge of water that loosens itself from hectic heights transform into an audacious river. his temple is under construction. It is considered a construction marvel. Cement and iron have not been used in this temple and the weight of the idol to be placed in the temple is around 24 Tones.
Ganesh Temple, Baigarh near Amarkantak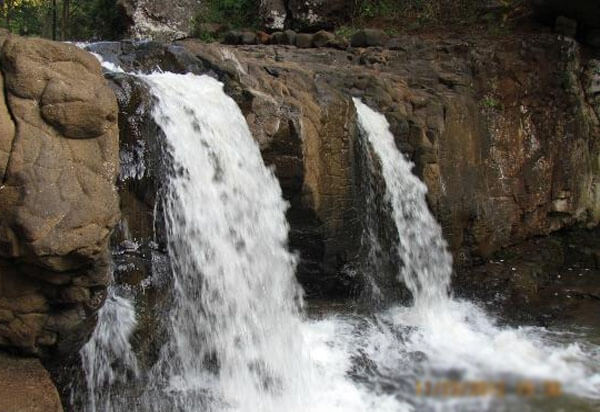 A temple of Lord Ganesha is located in Baigarh a small village, a few Kilometers from the main road connecting Rajendragam and Amarkantak. An idol of Lord Ganesha blessing the devotees is the sight of divine attraction. The temple is surrouDudh Dhara is not famed for its loftiness but it's quite and tranquil falls. This is just a 10 feet high stream but it captures the attention of the beholder with its bewitching whiteness. One of the loveliest sites in Amarkantak, Dudh Dhara makes you feel rejuvenated and delightful and so do not forget to be there while at Amarkantak.
Shambhudhara & Durgadhara
Two other extremely beautiful waterfalls are situated deep in the forest. One has to walk a few Kms. to see these breathtaking waterfalls.
Sarvodya Jain Temple
This temple is under construction. It is considered a construction marvel. Cement and iron have not been used in this temple and the weight of the idol to be placed in the temple is around 24 Tones.