Excursions near Amarkantak
Narmada Mandir (group of temples)
Narmdeshwar temple which has a holy kund made at the source of river Narmada is the most important temple at Amarkantak. There are about twenty small temples in the premises of the Narmada Mandir each one of which is important in its own way. There is the Sati temple, which is, devoted to Parvati. The protected site of the ASI is close to the main Narmada temple .
Mai Ka Bagiya
About one Km. from the main temple, there is a garden, which lies in a densely forested area. It is popularly believed that the Narmada devi used to pluck flowers in this garden.
Sonmuda
The point of origin of the Sone River. It is also a "sunrise" point.
Bhrigumandal
It is around 3 Kms. from Amarkantak on a difficult forest trek route. It is believed that Bhrigu Rishi meditated here. The Parasvinayak and Chandi caves are on this route.
Kabir Chabutra
Saint Kabir spent time here in meditation.
Jwaleshwar Mahadev
The origin of river Johilla. There is a temple deep in the forest of Jwaleshwar Mahadev . There is a 'sunset point' close to this temple.
Kapildhara
At a distance of 8 Kms. from the origin of river Narmada, the river falls from a height of 100 feet creating a waterfall known as Kapildhara. It is believed that the Kapil rishi meditated here.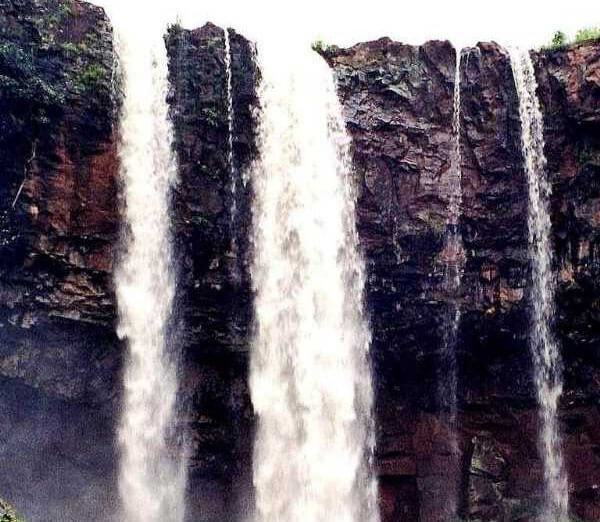 Dudhdhara
At a distance of 1 Km. from Kapildhara there is another beautiful waterfall on the river Narmada called Dudhdhara.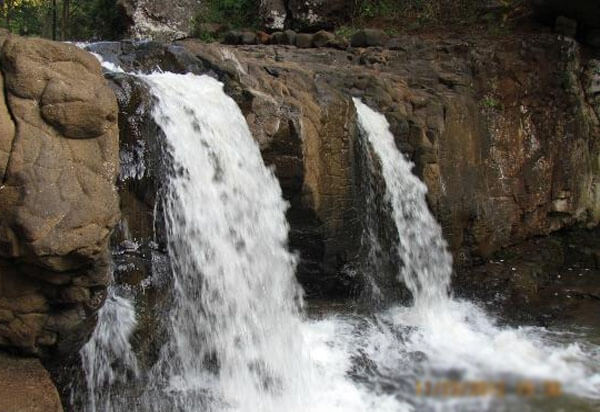 Shambhudhara & Durgadhara
Two other extremely beautiful waterfalls are situated deep in the forest. One has to walk a few Kms. to see these breathtaking waterfalls.
Sarvodya Jain Temple
This temple is under construction. It is considered a construction marvel. Cement and iron have not been used in this temple and the weight of the idol to be placed in the temple is around 24 Tones.
Ganesh Temple, Baigarh near Amarkantak
A temple of Lord Ganesha is located in Baigarh a small village, a few Kilometers from the main road connecting Rajendragam and Amarkantak. An idol of Lord Ganesha blessing the devotees is the sight of divine attraction. The temple is surrounded by forest area with springs of pure water originating from the river Narmada. The temple is located in a landscape of natural beauties and herbals which would offer the devotees a great place for worship and meditation. An Ancient temple, which is said to be built by the Pandav is also situated behind this Ganesha's temple.